Contact IDEAL Renovations | Retaining Walls
Block Retaining Wall Omaha
Ideal Renovations specializes in Residential and Commercial Block Retaining Walls.
Ideal Renovations of Omaha is a fully licensed, bonded, and insured block wall and block retaining wall installer, working with both homeowners and business owners in Omaha, Gretna, Papillion, Bennington, Yutan, and Bellevue.
Ideal Renovations Omaha is committed to the installation of all hardscape products including block walls, retaining wall blocks, wall blocks, patio pavers, and block retaining walls. Contact us to discuss your needs! We are a local family owned business with an expert team of contractors who have a significant amount of experience installing block retaining walls.
Call Ideal Renovations today at 402.778.9991 to set up a time for one of our trained contractors to come to you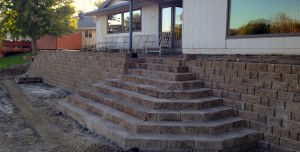 r home for an initial consultation. After reviewing your project we supply our residential and commercial customers with a free estimate. Whether you are looking for block retaining walls for around your landscaping, wall blocks for your gardens, or just wall blocks for a new hardscape in your backyard, Ideal Renovations has the expertise you need.
Ideal Renovations of Omaha offers block retaining walls, concrete block walls and more!
Get started on your project right away by using our online form to contact us by email or call 402.778.9991 to speak to one of our Block Wall experts!